Mohon Anak Dalam Kandungan Sihat & Selamat
Ya Allah..
Lindungilah zuriatku selama dia berada di dalam kandunganku dan berikanlah dia sihat..

Engkaulah yang Maha Menyembuh dan tiada sembuh melainkan penyembuhanMu, penyembuhan yang tidak meninggalkan penyakit.



Ya Allah..
Jadikan ia dengan rupa paras yang cantik dan baik serta tetapkan hatinya dalam iman kepadaMu dan utusanMu.



Ya Allah..
Lahirkan ia daripada perutku dengan senang dan selamat. Berikan ia kesihatan yang baik, kepandaian dan kesempurnaan akal fikiran serta berilmu dan beramal.



Ya Allah..
Lanjutkan usianya, sihatkan tubuh badannya, baikkan tingkah lakunya, lancarkan pertuturannya, merdukan suaranya untuk membaca al-Quran dan hadis dengan berkat Nabi Muhammad dan segala pujian untuk Tuhan sekalian alam.
Amin.
Sy tidak ramai kawan yang betul-betul rapat di sekolah. Cuma dua tiga orang yang sy boleh bersembang dengan selesa dan percaya. Bukannya apa, kadang-kadang bila kita rasa kita percayakan seseorang untuk berkongsi cerita, rupanya cerita kita di sampai-sampaikan kepada yang lain. Sudah tahun keempat sy di SK**S, inilah kawan sy Nurul Hana :-) Secara kebetulan, kami sama-sama bertukar dari Pahang ke KL. Dan ketika itu juga kami berkenalan. Mungkin faktor umur yang sebaya membuatkan kami boleh berbual dengan cara kami. Dialah kembar sy di sekolah. Serius!
I wish the success keep coming in your life and smiles keep hovering around you all the time.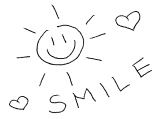 Nurul Hana & Nurul Farhana



Happy Teacher's Day :)) 16th of May.