Sy tidak ramai kawan yang betul-betul rapat di sekolah. Cuma dua tiga orang yang sy boleh bersembang dengan selesa dan percaya. Bukannya apa, kadang-kadang bila kita rasa kita percayakan seseorang untuk berkongsi cerita, rupanya cerita kita di sampai-sampaikan kepada yang lain. Sudah tahun keempat sy di SK**S, inilah kawan sy Nurul Hana :-) Secara kebetulan, kami sama-sama bertukar dari Pahang ke KL. Dan ketika itu juga kami berkenalan. Mungkin faktor umur yang sebaya membuatkan kami boleh berbual dengan cara kami. Dialah kembar sy di sekolah. Serius!
I wish the success keep coming in your life and smiles keep hovering around you all the time.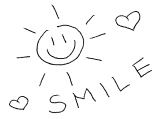 Nurul Hana & Nurul Farhana



Happy Teacher's Day :)) 16th of May.